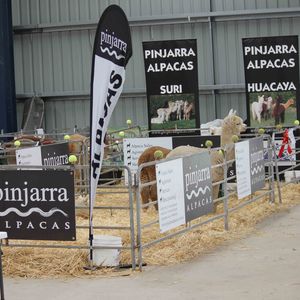 Showing your alpacas is one of the most important things you can do if you are a serious breeder. Showing is the best way to benchmark your alpacas to see how your breeding program is progressing in comparision with the best in the industry.
Showing is also a great way for your alpacas and your stud to become known to other breeders. When you want to sell an animal, or you want to advertise your stud males, show results are an important proof of the quality of your alpacas.
Pinjarra has been showing alpacas on behalf of our agistees for many years. We are also happy to help our agistees learn how to show their own alpacas.
Pinjarra can undertake all or part of the showing process.
Halter Training
Pre-show alpaca preparation
Transport
Provide halters and leads
Provide feed and water at the show
Cleaning of pens at the show
Pre-show alpaca inspections
Leading the alpaca in the show ring
We would be delighted to be a part of your show team. Why not talk with us about getting involved?.