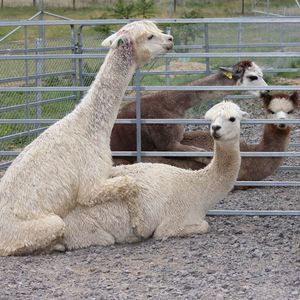 Successful mating of your females is one of the most important events in the calendar year. Pinjarra offer a mating management service to our agistees. Other alpaca owners can also access this service when they choose to leave their females here for mating with a stud male at Pinjarra.
Each mating at Pinjarra is managed by individual alpaca. We generally don't conduct paddock matings. We time each mating and keep records of the details of the mating. We then manage the spit off process including at least three spit offs (pregnancy tests) across the first eight weeks after mating. If an alpaca sits during one of the spit offs, she is remated and the process starts again.
At eight weeks, the heart beat of a foetus can be observed by ultrasound. At between eight and fourteen weeks, we can arrange a veterinary ultrasound to confirm pregnancy of the alpaca.
Stud Males
Please check the Stud Males section of our website for details on the stud males available.