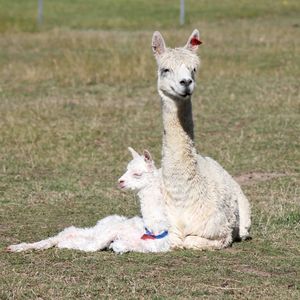 For the serious breeder and the hobby farmer, choosing a stud male for your breeding females can be a little daunting or a lot of fun.
Pinjarra can discuss your breeding interests and ideas and help you to make your decisions.
Pinjarra also offers high quality huacaya stud males, in white and colours that may be of interest to you for breeding.
Most importantly, the decision needs to suit your breeding aims. Our part in the process is to provide ideas, to advise and recommend.
And when the decision of which stud male(s) to use is made, Pinjarra can assist with the mating - please see our Mating Service on this website.